The Nike Air Force 1 sits firmly in the Nike Hall of Fame as one of the most popular sneakers of all time. This article looks at whether or not the Air Force 1 is good for running or not and what specifically makes a good Nike running shoe.
The Nike Air Force 1 is without a doubt, one of the brand's most successful shoe lines, with thousands of enthusiastic wearers across the globe. A timeless classic that has been a mainstay in the sneaker world for decades. Whatever age bracket you fall into, there's a Nike Air force 1 colourway for you, whether you intend to use them as ar running shoe or not. A well rounded rotation is not complete without a fresh pair of AF1's in the shoe rack.
The Nike Air Force 1 was released as a basketball shoe in 1982, designed by sneaker legend, Bruce Kilgore and championed by Basketball legend Rasheed Wallace. Arriving before Air Jordans, The Air Force 1 featured a unique design, with a full-length air bubble in the heel, and a translucent outsole. Years before Air Max, the AF1 was the original shoe to feature Nike's Air technology, making this trainer comfier, lighter and more cushioned underfoot than predecessors such as the Nike Blazer.
Are Nike Air Force 1s Good For Running ?
Air Force 1's are a constant feature on shelves and feet alike. As a sports brand, Nike has a variety of silhouettes tailored for different activities such as skateboarding, basketball, tennis, or running. It's worth noting that their footwear is suited for many different sports. However, if you want to know if the Nike Air Force 1 can cope with being used for other purposes than everyday wear, we consider the suitability of Nike Air Force 1 sneakers for running and walking.
Air force 1s have a sturdy build that bears your weight well and gives excellent balance on slippery surfaces. The Air Force One gets its name from the American Presidential plane was first released in 1982 and has received very few modifications from the original design (see also 'How To Lace Air Force 1').
What makes the Air force 1 so popular is definitely the classic look and durability of the shoe. The soles feature non-marked rubber which makes them waterproof and resistant to weather elements. The silhouette also comes fully equipped with an air unit as well as detailed cuts to make them comfortable and roomy around your feet. Although the earlier versions of Air force 1 sneaker were worn on the court, today these creps are more suited to casual wear. Nowadays you're more likely to spot Air force 1's on a sneakerhead walking down, rather than on the basketball court.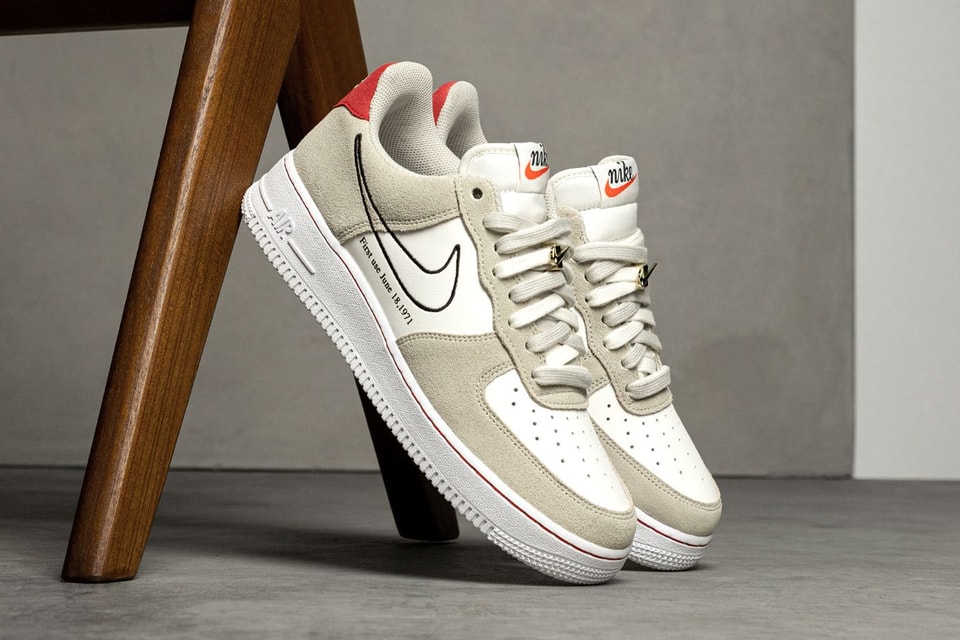 What Nike Sneakers are Specifically Designed for Running?
Generally, the Nike Air Force 1 is not good for running. Nike sneakers built specifcially for running and exercise activities include the Nike Joyride, Nike React, and the Pegasus Running Trainer. You can find a detailed guide below:
Nike Joyride
Nike Joyride sneakers were launched in 2019 offering improved cushioning and style to Nike's exercise-loving customers. Fitted with Flyknit technology, they weigh next to nothing and check seamlessly around your feet. Joyrides also come with a soft cushioning system that absorbs shock and gives you a bouncy feel. According to many happy customers, the Joyride gives amazing impact protection and makes running easy for anyone. You'll be pleased to hear that they provide an increase of 14% when it comes to impact protection, compared to other running shoes. Take a quick look through the pros and cons below.
PROS
The joyride sneakers feature Nike's Flyknit material, which makes them light on your feet.
An increased impact absorption and the cushioning system give off a bouncy feel and reduce the likelihood of running injuries and ankle sprains.
The joyride sneakers make running easy and comfortable, blending runner support and comfort with style
They are pretty adaptable and suitable for several occasions.
CONS
While they offer excellent impact protection, the Nike joyride sneakers remain susceptible to more challenging hard surfaces.
The shoes are pretty pricey, particularly if you're a new runner.
There are concerns about ankle stability, given the feather-like weight of the shoes.
Where to buy: SHOP HERE
Nike React
Nike React Running Shoes are also Flyknit tech-equipped sneakers. From their appearance, you can instantly tell they are long-distance running shoes. The sneakers feature a foamy tread sole and are notable for an absence of rubber in the build-up. This feature gives runners more traction in wet conditions and slippery surfaces. The foamy soles also have high impact protection and shock absorption technology, offering a bouncy feel somewhat similar to the Nike Joyrides. Durability is the Nike React running shoe mantra as they can rack up plenty of mileage.
PROS
Reliable in wet conditions and durable on slick surfaces.
The Nike React is capable of doing numbers with its innovative and durable soft landing tech.
Highly suited to everyday runs.
The React foam gives a bouncy and comfy feel, reducing the impact of running on hard surfaces.
CONS
The Nike React weighs more than other running shoes and may not be ideal for long or fast runs.
The heel collar is a bit loose, which may cause some discomfort.
Where to buy: SHOP HERE
Pegasus Running Trainer
Whether or not you've seen Hercules, you're likely to be familiar with the word Pegasus. Named after the Greek mythological flying horse, the Nike Pegasus running trainer is specifically made for fast runs. Built for rst very long runs. The shoes feature waterproof protection and traction support, making them suitable for trails and outdoor running. Also fitted with Nike React Foam, you can expect a soft and lightweight running enclosure for your feet. Built for intensive everyday workouts, they come designed with quick-dry materials and waterproof features.
PROS
The GORE-TEX invisible tech ensures waterproof protection and quicker drying periods.
The pegasus sneakers are flexible and adaptable for everyday runs.
Combined rubber and react foam soles make them suitable for several running tracks.
Increased traction and superb shock absorption.
CONS
The outset sole features rubber which makes the shoe feel heavy on long runs.
Not well suited to rocky or mountainous areas.
The sneakers are more suited to trails than road runs.
Where to buy: SHOP HERE
Air Zoom Pegasus
As mentioned earlier the Pegasus brand is Nike's most durable running shoe, much more suited to running than lifestyle trainers like the Air Force 1. Due to its popularity and durability there are over 37 re-imagined versions of this shoe. The Pegasus running trainer lives up to its name by combining Nike's Air Zoom and React Foam features. This feature gives the sneakers a roomy feel and soft landing with each stride. The react foam allows runners to go longer miles with soft cushion and impact protection. Named after the mythical flying horse, the Pegasus brand is Nike's longest-running sneaker of this kind. The new Pegasus Trainer also features a springy React foam that adds a soft bounce to your runs.
PROS
Improved air unit, which makes runs more comfortable and less weary on your feet.
The Pegasus Trainer comes with a foamy sole for softer cushioning and reduced impact on hard surfaces.
Designed for everyday running.
Adaptable to diverse running intensity and conditions.
CONS
The Pegasus trainers are close-fitting, which may be a problem for runners with wide feet.
The Pegasus sneakers feature reduced ankle support when compared to other running shoes on the market.
Where to buy: SHOP HERE
While all of these shoes are suitable, and many deemed ideal for most of your walking and running needs. You might want to consider getting some Nike ACG pieces when it comes to walking gear, which comes crafted with environmentally friendly materials that increase comfort and reliability. The sleek ACG sneakers on offer are also suitable for cold weather conditions runs, keeping you warm and dry simultaneously. You can check out some of the available ACG gear here.
Conclusion
Let's be honest, our feet deserve comfort and reliability. Whilst the Nike Air Force One may not be the ideal shoe for running, we've put together a list of nice shoes that are better suited to your running needs. We've also included the pros and cons of each pair and where you can pick them up. The thickness of the Air Force 1 sole can make them feel uncomfortable for strenuous activities like running and jogging. However, they are well suited to walking. Your footwear is just as crucial as the zeal and determination required to hit your goals. It is essential for you to have the right running gear. In addition to those mentioned above, some other quality running shoes on the market include the Reebok Floatride, Skechers GoRun, and the Adidas vitality.
Choosing the perfect running shoe requires some detailed research. Here, we look at some of the questions that runners should ask while shopping for new sneakers.
Frequently Asked Questions
Which Running Shoe Should I Buy?
There is no perfect running shoe. The significant factors that should influence your choice of running shoes include budget, comfort and durability. Other factors to consider are your personal running intensity, the type of trails or roads you will run on and shoe weight.
We recommend three styles, The Zoom Pegasus, The Nike React or the Nike Joyride.
Are Air Force 1 comfortable for running?
The Nike Air Force 1 is a timeless classic, originally designed for the basketball court. They are comfortable and supportive for everyday wear, but there are a lot more appropriate shoes for running. If you are serious about running we recommend investing in something from the React or Zoom Pegasus range.
Are Nike Air Force 1 good for standing all day?
Nike's Air Force 1 is one of Nike's oldest and most popular styles, worn by millions across the globe. With an air pocket inside the sole, the shoe is generally very comfortable for standing in for long periods of time. However, as trainers go, the Nike Air Force 1 is on the heavier side so there are better options available.
How Important Is Cushioning?
Cushioning is a vital component of a running shoe. This is because your feet begin to ache when running long distances. While pro runners generally prefer lighter shoes, which typically feature less shoe cushioning in favour of speed. We would say that given the unpredictability of trail surfaces and the possibility of long distance running, shoe cushioning is imperative. Shoe cushioning makes your feet feel more comfortable and also absorbs impacts, reducing your chances of sustaining injuries or blistering your feet.
Can you workout in Air Force 1?
You can technicially work out in almost all sneakers. However some are more suited to workouts than others. The Nike Air Force 1 whilst very comfortable due to the in-build air unit hidden within the sole, is actually much heavier than most other trainers so shouldn't really be your got to choice to work out in.
As discussed further up in the article, Nike make a number of trainers specifically for gym use or working out in. As a good place to start, we would recommend looking at the Zoom Pegasus range or looking into the Nike React running Range.
Are Nike Air Force 1s comfortable?
The Nike Air Force 1 is a shoe you can wear all-day, every day without complaints. Tried and tested, these stand in the sneaker hall of fame ad some of the comfiest creps of all time. With their unique air cushioning system, the Air Force 1 provides excellent comfort throughout the day and amazing support when walking.
Are Air Force 1s designed for working out and exercising?
Are Air Force 1s designed for working out and exercising?
Air Force 1 sneakers were originally developed for the basketball court, so yes they were designed specifically for sport. However, there are now a number of different sneakers designed specifically for working out and exercising.
Whilst the Nike Air Force 1 is great as a city shoe, you might want to look into shoes designed for intense workouts, such as the Nike Pegasus, Nike Joyride, Nike LunarGlide 6 , Nike Lunar Tempo or the Nike AirZoom Elite. These recommendations are highly rated by professional athletes and sports personalities across the globe.