Not so long ago everybody would cringe at the idea of wearing slides with socks. But since around 2014 this style is trending everywhere for one excellent reason: the combination is SO comfortable. Unfortunately, not every pair of slides look badass with socks, so how would you know which is the best choice to make? Luckily, we have compiled a list of the best slides to pull off the "slides and socks" jam.
Two of the most popular slides to wear socks with is without question the lightweight Nike Benassi JDI, the super-comfortable Adilette Lite slides, the legendary Nike Air Max 90, the sleek Lacoste Fraisier, the old school Vans slides. Last but certainly not least is the classic Adidas Adilette slides.
These slides have made it to our list of the 6 best slides to rock with socks all year long. There's no way you can't pull off the slides and socks look wearing any of these gorgeous slides on your feet.
Do you want to find out more about these spectacular slides, what makes them worth mentioning, how much they are, and where you can buy them?
Continue reading to find out all this information!
The Best Slides To Rock With Socks
The Nike Benassi JDI Slide With Socks For A Simple Look
Average RRP: £24
Where to Buy: Nike
About the Nike Benassi JDI Slides
If you're looking for a match between maximum comfort and simple style, the Nike Benassi JDI is a reliable choice. These stellar slides were released in the Summer of 2019. This classic pair of slides offers a soft cushion-like foam midsole which makes them one of the most comfortable slides on the market. Nike used jersey material for the slides' upper. This adds to the comfort of the shoe as well as allows for a more secure fit. For absolute traction, the Nike Benassi JDI has a rubber outsole. This feature makes these slides a lot more durable than what'd you'd normally find in similar slides. To top these slides off, they're also pretty affordable, and you can securely purchase them directly from Nike, guaranteeing their quality. These slides are available for both men and women. These slides were made for walking and running errands in 24/7.
The Adilette Lite Slides With Socks For A Relaxed Feel
Image Source: Adidas
Average RRP: £24
Where to Buy: Adidas
About the Adilette Lite Slides
Like Nike's Benassi JDI's, Adidas placed their logo on the face of their slides to achieve that sporty look or alternatively, the classic three stripes. The subtle slides offer a soft sole to secure comfort and a simple design that allows you to mix and match these slides with any outfit. The thick sole follows the signature Adidas styles and provides better grip and durability to these slides. Adidas used synthetic material for both the upper band and the sole for these slides, enabling better support for your foot. These slides are not exclusively for men as they are available for women too. Priced around the same figure as Nike's Benassi JDI's, you can count on these affordable slides for comfort, durability, and simplicity.
The Lacoste Fraisier With Socks For A Neat Look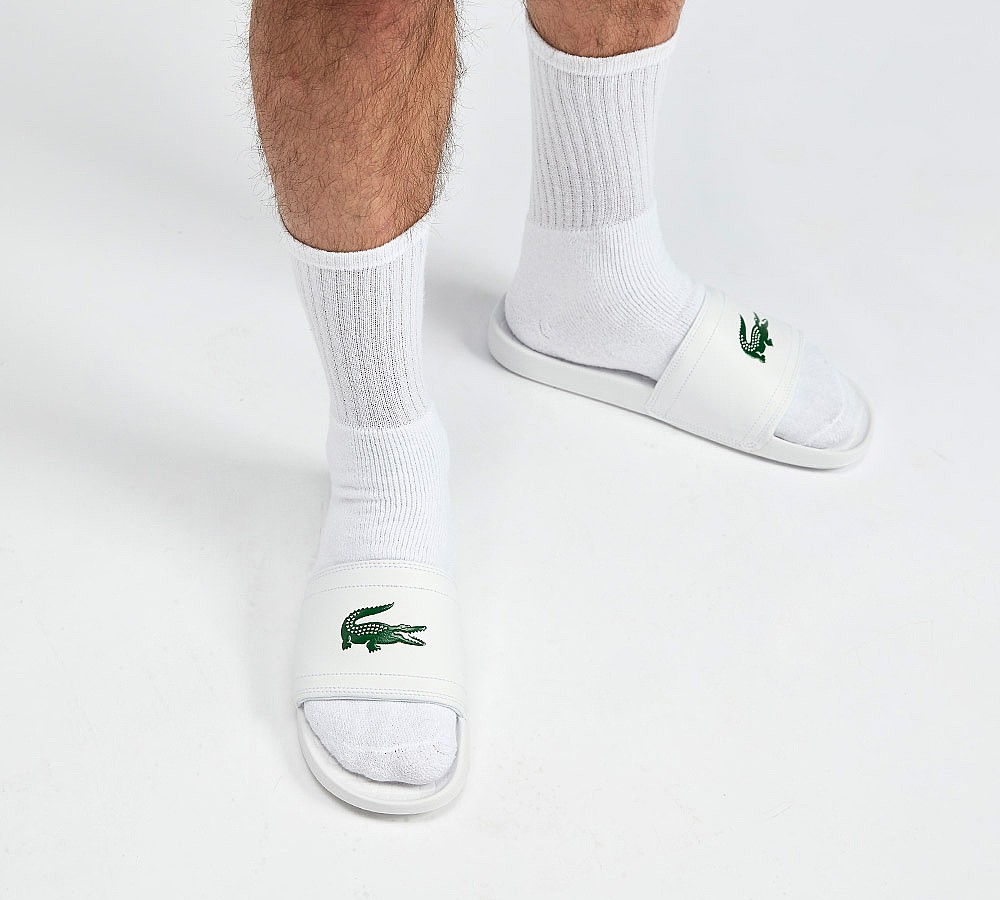 Average RRP: £22
Where to Buy: Footasylum
About the Lacoste Fraisier Slides
The simple, neat design of Lacoste's Fraisier Slides shows the true French class in these signature slides. Rene Lacoste the founder of Lacoste was a French tennis legend. These pairs of slides and many others of Lacoste's are designed to have a perfect grip on and off the court. However, the fine detail on these slides make them ideal for non-sport-related activities too. Similar to the Adidas Adilette Lite slides, the Lacoste Fraisier slides have a synthetic sole. To make matters sweeter, Lacoste designed these slides to be extra water-repellent, using padding on the rubber upper. This adds to the durability of these slides and the freedom of wearing them at any time. They'll take you everywhere! From the pool to the grocery store.
The Nike Air Max 90 With For A Super-Sporty Look
Average RRP: £64
Where to Buy: StockX
About the Nike Air Max 90 Slides
Uber comfort and ultra-sporty are what the Nike Air Max 90 slides offer. The bold design and bight highlighter yellow tones of these slides are eye-catching! The visible air max heel honors Nike's famous Air Max range. For the highest level of comfort, these slides have a foam footbed and a strap lining for better support. Released on the 1st of March 2020, these slides have been a popular choice amongst Nike advocates and slide-lovers alike. Nike designed the Air Max 90 slides for both men and women. They are made to be worn on any occasion. The ultra-durability features provide a guaranteed grip for sports activities. The polished, dominant style is also the perfect addition to your casual summer wear. Although these slides are undoubtedly much more pricey than what we've seen so far, the quality, durability, and look of these slides are well worth it.
The Classic Vans Slides For A Retro Look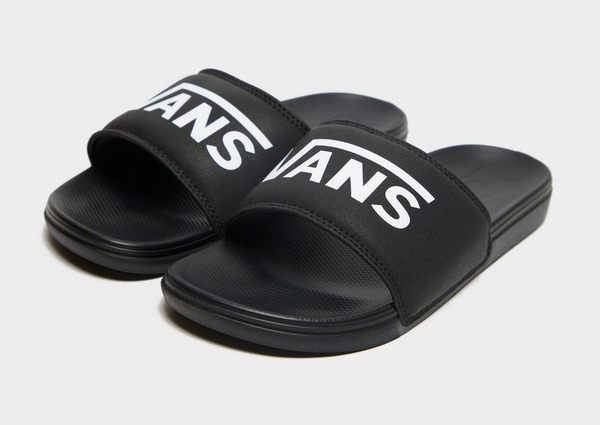 Average RRP: £30
Where to Buy: JD Sports
About the Vans Slides
Do you like simple, old school, and durable slides? Then look no further than the Vans slides as they are the perfect choice for you! Plus, they're budget-friendly which means you don't have to pay a fortune to enjoy the comfort of high-quality slides. Rock these with the confidence of the "slides and socks" look done right. The synthetic rubber upper of these slides offers the utmost comfort. The neoprene provides these slides with strength, making them an incredibly durable choice that's made for heavy-duty living. Unfortunately, these specific pair of Vans slides are available only in black. However, the versatile color and seamless design allow you to pair these slides with practically any outfit. These slides might not have the same sport-friendly features that the other slides we've discussed do, but they are still a high-quality option that look frickin' grand with socks!
The R449 Adilette Slides For A Classic Look
Image Source: Adidas
Average RRP: £26
Where to Buy: Adidas
Earlier, we spoke about the Adilette Lite slides, and if you're wondering, "Aren't these the same slides?" They are most certainly not! The Adilette R449 follows a classic design and is one of Adidas's most original looks. It was also the first released. For "Old school slides" and "The most common slides for socks", Adidas Adilettes is definitely up in the top five of the best slides out there.
The Adilette R449 lite slides have a more urban, minimal style and follow a more sporty design than the Adilette's signature three stripes. There is a reason that the Adilette has been a popular choice to pull off the "slides and socks look", and that is because of how unbelievably comfortable they are. Since 1972, the Adilette has been the ideal pair of slides for any occasion and was also one of the first designs that made slides an adored choice for shoes. Adidas' slides are a high-quality and a reliable option that will be sure to last you for decades to come! To top it off, you can purchase these slides for both men and women, making them fantastic gifts for couples.
The Winning Slides To Wear With Socks
Out of these six jaw-dropping slides to pair with socks (mind the pun), let's have a look at the best one to buy in terms of price, quality, and overall look.
Drum roll, please!…
The winner is… Adidas Adilette slides
I am a huge fan of all the brands that we've mentioned – Adidas, Lacoste, and Vans, but the Nike Benassi JDI slides really do it for me.
Here's Why We Chose These Slides?
Aside from the fact that a pair of Adidas Adilette slides and a pair of matching socks look absolutely badass, there are other multiple factors that make these slides the best option by far.
They work well for various purposes. The sole offers a proper grip for outdoor use or sports activities. The design features deliver a comfortable pair of slides that's perfect for lounging around in summer.
Versatile design. These pairs of slides are so simple in design with just enough detail and color. You can match this pair of slides with almost anything. They don't look too sporty like the Nike Air Max 90 or too simple like the Vans slides. These just perfectly sit in the middle. There is a perfect balance between sport and casual.
They're affordable. These slides offer an abundance of attractive features that make them very economically sound compared to other slides in their range.
Conclusion
There's no doubt that all these slides offer extremely appealing features, and each goes well with a pair of socks. But overall, adidas really has outdone itself with the Adilette slides. They are everything you want in slides lal rolled into one. They're high-end, excellent quality, durable, comfortable, and fashionable slides. What more can you ask for?
Whether you spend most of your time walking through the street or relaxing on the couch, Adidas Adilette slides slides are an impressive addition to your rotation With just the right amount of Adidas's iconic sporty design and a modern, simple look, you can wear these slides with anything.
Wearing Adidas Adilette slides exposes you to style, comfort, and affordability all at the same time.
But if any of the other slides we've mentioned have what you need from a pair of slides, then you're good to go!
Frequently Asked Questions
When did the slides and socks trend start?
Dating back to more than 2000 years ago, Ancient Romans were rocking socks and slides. In more recent times, the trend started in 2014.
Who started socks and slides?
Celine, Gucci, and Chloe put this style on the catwalk, and then everybody started wearing this trend. Icons like Rihanna and Elle Fanning were the very first few to start rocking this style.
Are socks and slides acceptable?
This depends on how you wear them and where you wear them too. Make sure your socks match your slides and wear this style as a casual outfit.
Are slides or flip flops better?
This depends on what you need from each shoe. Slides are more versatile and can be used for more activities. Flip flops are exclusive to certain activities and looks, namely the pool or the beach.
How are you supposed to wear slides?
You can wear slides with or without socks. However, not every pair of slides will look good with a pair of socks. Make sure your socks and your slides follow the same style and/or colour. For example, Nike socks go with Nike slides.