The Nike Air Max Plus is arguably one of the most iconic sneakers of all time — but do you know the interesting story behind the silhoette or the TN sign? We'll explore this awesome shoe's history in more depth right here!
To answer your question right out of the gate, Nike TN stands for Nike Tuned. You can currently pick up three four styles of TN: Tuned 1, Tuned 2, Tuned 3 and the recent Terrascape. These are all also referred to as the Nike Air Max Plus TN.
Who designed the Nike TN?
The Air Max Plus model, that would soon become the future of the entire product line, was actually created by one of Nike's youngest designers back in 1997. Actually, he wasn't even an official Nike employee back then! Of course, Sean McDowell is viewed as a designer legend today, similar to the likes of Tinker Hatfield — but back in the late 90s, he was just another young designer trying to come up with something new. And during one of his many days on hot and sunny Florida beaches, he'd go on to create one of the most original releases of all time!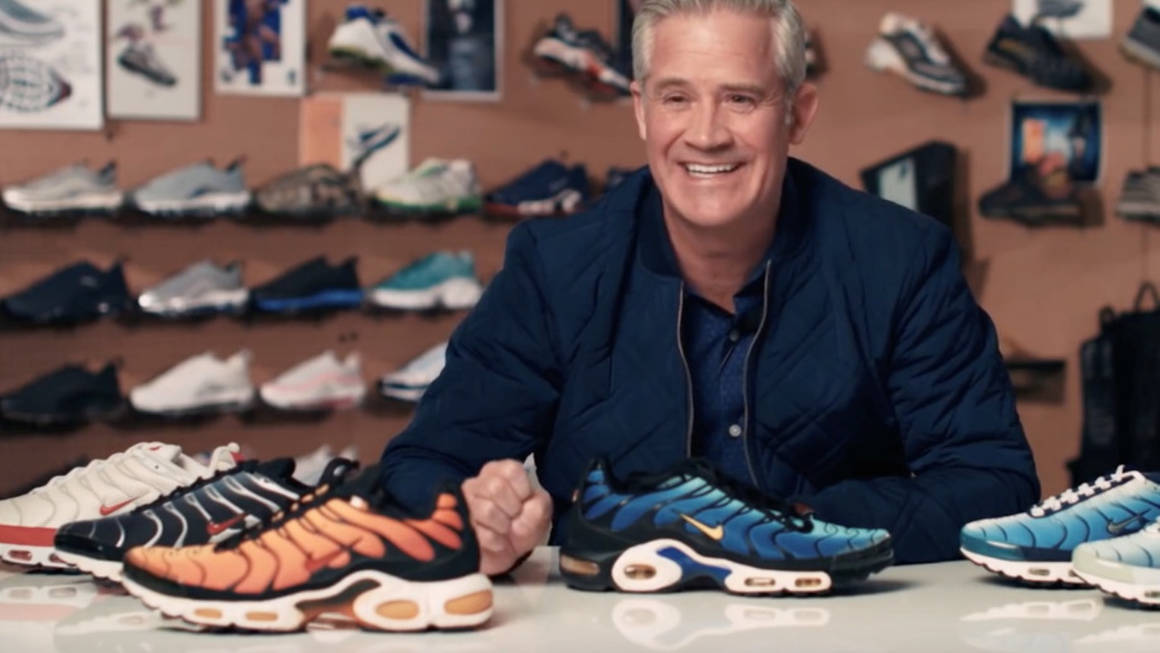 Origins
The Air Max Plus design would not only rejuvenate the Air Max Family, but also spawn one of the most recognizable cultural icons ever.
But how did it all happen? Well, once McDowell got picked up by Nike in the late 90s, he was given one heck of a project almost immediately. His job was to design a shoe in collaboration with Foot Locker, Nike's most vital retailer. And the task was no picnic — he needed to come up with a shoe that would properly harness the latest Tuned Air technology, which was a new breakthrough for Nike back then. It was certainly a baptism by fire, but McDowell managed it in the end.
Unlike all of the other designers before him, McDowell had a rather different sketchbook while designing his shoe — one filled with palm trees bent by the wind and warm Florida sunsets. This was no accident, as McDowell spent a lot of time hanging out on Florida beaches and sketching before he started working for Nike. In these scenic sights, the young footwear designer began piecing together the elements of one of the Nike Air Max Plus TN.
The technology behind the TN
While the Air Max Plus has always been revered for its incredibly distinctive visual design features, it should be noted that it was also quite technologically impressive for its time, featuring the tallest air unit to date. After all, there's a reason why this shoe is seen as the biggest footwear design marvel of the late 1990s.
As mentioned above, it was the first shoe from Nike to come with Tuned Air. And that was a crucial step forward for the brand, which was previously hell-bent on producing Air units as large as possible. However, the Tuned Air cushioning technology changed that and replaced brute force with a more subtle, delicate approach to controlling air pressure.
Here, the point was to distribute Air so that it gives more stability and efficiency to the wearer. This was the first shoe to have what Nike would start calling hemispheres — literal half-spheres put into the shoe's sole that reduced pressure around the heel, provide more cushioning and a softer ride.
What Does Nike TN stand for on the Nike Air Max Plus?
We've already discussed how huge the Tuned Air technology was for Nike at the time. And seeing as this was the first shoe to feature it, it's only logical that they'd put the TN sign to make Tuned Air more prominent.
Why are Nike TN so popular?
When the shoe appeared, it quickly became apparent that it was a huge hit with the late 1990s counterculture audiences in extremely specific social contexts. For instance, young boys that were die-hard Nike fans and Foot Locker customers were immediately enthralled — it became a pop-culture symbol for low-middle-class kids that weren't raised in the best suburban neighborhoods, and adopted a more urban style of fashion.
Where to buy the Nike Air Max Plus TN?
Nike TN Air Max Plus are relatively common place in the sneaker world, which means you can get them pretty much anywhere. However, if you're shopping online considering the TN's long standing history with Footlocker, we recommended there or Nike direct for the best range and sale. As a third choice, you may want to check out Offspring or head over to StockX if you're considering pairs that have sold out.
Nike: SHOP HERE
Footlocker: SHOP HERE
OFFSPRING: SHOP HERE
StockX: SHOP HERE
Frequently Asked Questions
The Nike TN is a lifestyle shoe by Nike introduced in the late 90s. The TN emblem found on the heel and tongue stands for Tuned Air, which is the revolutionary technology the shoe sits on top of. The Nike Air Max Plus laid the path for future styles such as the Nike Air VaporMax Plus and the Air Max Plus "Terrascape"
Are Nike TN running shoes?
Initially, the Nike Air Max Plus was designed as a running shoe (see also 'Are Nike Air Max Shoes Good For Walking?'). However, these days, you can find plenty of more suitable running shoes, especially considering how far athletic shoe design has come since then.
Are Nike TNs comfortable?
If you thought that Nike TNs were always most famous for their unapologetic and revolutionary design, you'd be absolutely correct. However, it's also important to point out that the Tuned Air technology makes them extremely comfortable, at least for all-day wear.
Are Air Max plus true to size?
Yes they are, in general, the Air Max Plus model has proven to be true to size. Though, make sure to consult size charts — and people with wider feet will find the Air Max Plus 3 or Tuned 3 to be an ideal choice. These come with wider soles that make walking and all-day wear far more comfortable.
How many inches of height do Nike Air Max Plus give you?
Air Max plus, generally add around 1.5 inches to your height, which is quite considerable compared to other silhouettes on the market. If you're looking for an Air Max shoe to give you more height, we have a dedicated article to this here.
Are air max plus good for wide feet?
Generally TN are a good choice for wide feet, specifically the Air Max Plus 3 is an excellent choice as they are wider than both the Tuned 1 and 2. If you struggle with finding the right fit, we recommend going for the Nike Tuned 3.
What are Nike TN's called?
The official name for Nike TN is the Nike Air Max Plus but they are also known as Tuned 1. There are 3 core Air Max Plus styles. The Tuned 1, Tuned 2 and Tuned 3. Also referred to as Air Max Plus 1, Air Max Plus 2 and Air Max Plus3.
Can you run in Nike Air Max Plus?
The Nike Air Max Plus was originally marketed as a dedicated running shoe, however it is more suited to every day wear as a casual shoe rather than long distance running. In 2022, you can definitely find more styles suited specifically for running.